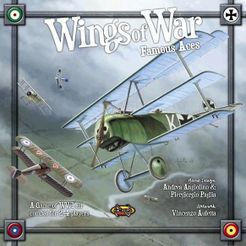 Wings of War
The story of Games Workshop's Aeronautica Imperialis game doesn't start with GW at all. It starts with an Italian game published in 2004 depicting World War I tactical air combat. Wings of War used an innovatory semi-board game mechanism where players chose hidden manoeuvres in advance which were revealed when a player moved a plane. The manoeuvres were depicted on the card and the player just moved his plane along whatever track was depicted, making such changes in facing as necessary. 'Extra' movement could be used in front and/or after the manoeuvre giving the player some flexibility.
Wings of War was taken up by Fantasy Flight and became a big success. They duly dropped it and it is now sold as Wings of Glory.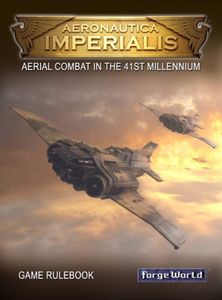 Aeronautica Imperialis
In 2007, Forge World published Aeronautica Imperialis, a 40K air game.
The mechanism of AI was a straight knock-off of Wings of Glory. You could move a bit, lay down a manoeuvre card and then possibly move again. The problem is that Wings of War was a pretty decent simulation of fragile wooden biplanes armed with light machine guns. An attempt to translate it into a WWII version was much less successful because WWII monoplane air warfare with cannon armed fighters was fought very differently. We will return to this point.
Aeronautica Imperialis: Wings of Vengeance
The first thing to notice is that the models in Wings of Vengeance are the wonderful plastic models. They are much bigger than the old Epic scale stuff from Forge World and are beautifully sculpted. I cannot speak too highly of them.
What is in the rest of the box though is not a game, but a taster for a game. The playing mat is too small, the rulebook is a cut down paperback version, and no playing cards are included - there are useful counters.
The game mechanism is virtually identical to Forge World's AI, and hence Wings of War except that the 'expensive to print' movement cards are gone and replaced by a sheet depicting available manoeuvres. To make this work, the game is played on a hex grid - hence the concern about the small size of the playing area in the box. As an aside, My friend, David S. claims that in some places in the cut and paste they have forgotten to turn cm into hexes.
Now this is a problem because what worked well as a simulation of fighting canvas biplanes with Lewis guns comes over as pretty damn odd when translated into supersonic jets. For example, although height is recorded in the game, ALL manoeuvres take place in the horizontal. After Polikarpov introduced the Rata in 1933 (until the rise of BVR missile combat, anyway) manoeuvring in the vertical has been way more important for tactical combat than the horizontal. The classic tactic from 1918 SE5a to MIGs in Vietnam is fast in, shoot, fast out: he who shoots and runs away, lives to get home for tea and medals.
And here is another strange example, or at least it seems strange to me. A plane in Wings of vengeance achieves its maximum safe speed in level flight. Diving to go faster risks structural damage. That seems more suited to canvas biplanes than jet planes. Also the weapons are strangely ineffectual. Modern missiles and cannon just smash planes out of the sky but Wings of Vengeance planes can survive multiple hits - well most of them, anyway.
Okay that's enough from me for now: more reviews on the models and a test game to follow.
So first impressions?
Great models, not sure about the game - but at around £50, it is worth buying just for the models. If you end up throwing the game away and just keep the planes, you still will have got value for money.